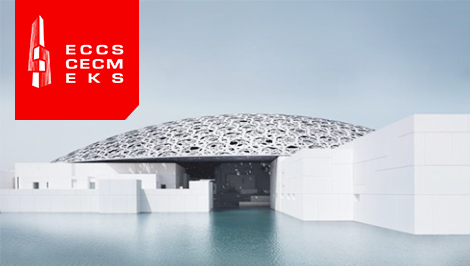 In collaboration with the Austrian steel builder Waagner-Biro, AluKönigStahl won the European Award for Steel Structures 2017 for the dome roof of the Louvre Museum in Abu Dhabi. The dome above the Louvre Museum with a diameter of 178m is a unique construct made of 5,200 tonnes of steel and 2,000 tonnes of aluminium. The dome rests on only 4 points and spans across four buildings, providing shade for the buildings below as well as the open spaces in between – in part land, in part water.
Apart from the multiple optimisation phases for the dimensions and quantities, the
project's challenge was especially the tight schedule with strict shipments to Port Jebel Ali as well as the coordination between the ready messages of the workshop, freight
companies and Waagner-Biro, UAE. Upon receiving the order, the producing dimensions and quantities were divided precisely and the export documentation had to be generated
down to the exact kilograms and euro. Thanks to the experience of previous international
projects, the seamless collaboration of all parties involved at AluKönigStahl, the producing workshops and the procurement division setup by Waagner-Biro onsite, the project was successfully completed with the desired level of shipment service.